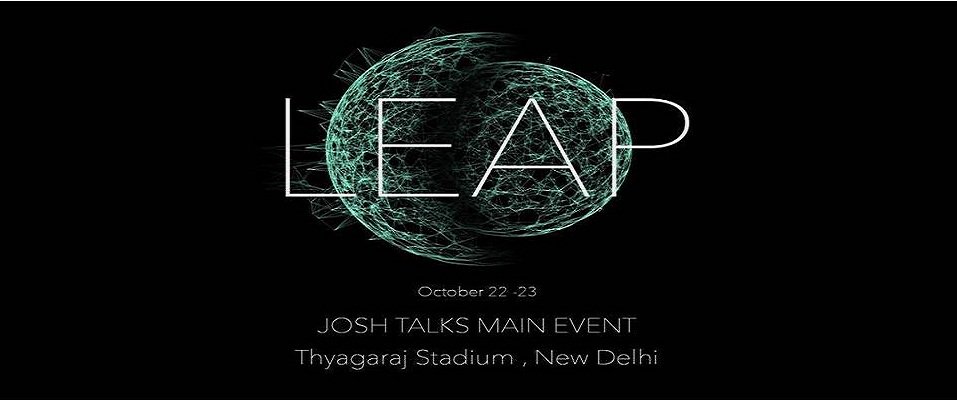 If I start this blog post from quoting my last weekend (22 - 23 Oct' 16) as the "most productive weekend in terms of inspiration and motivational, As I have learned so many things from 24 speakers present theirs at Josh Talks. They have shared their real life stories, their struggles and How they find out their purpose of life. "The purpose of life is not to be happy. It is to be useful, to be honorable, to be compassionate, to make a difference in someone's life.
Josh Talks, an innovative start up founded by Mr.
Shobhit Banga
and Ms.
Supriya Paul
in 2014, started their 2-day conference LEAP 2016 at the
Thyagaraj Stadium
amidst high achievers from all walks of life - dreamers and doers, leaders and change makers, technologists and entrepreneurs. Every speaker focused primarily on purpose of life.
Josh Talks 2016 event was attended by over 3600 people, across different age groups. Josh Talks, would be India's 1st TED Global level conference with so many insights to watch out from these amazing talks. The primary topic of discussion on two days was how to innovate in your day to day life so as to find one's purpose in life despite challenges. Every speaker not only emphasized how much they love what they do but also how they relentlessly followed their passion for getting where they are today.
Some Pics for #JoshTalks2016
Passes for #JoshTalks
Audience at Thayagraj Stadium
On-Stage Shobhit & Supriya
Vicky Roy sharing his story
Selfie with Ryan Martyr
Quotes from the Speakers in the Event :
1)
Your life is your stage. - Deepak Ramola
2) Young people have the potential to tackle hunger problems - Ankit Kawatra
3) Everybody wants to become famous before they become good - PapaCJ
4) I've proved that nothing is impossible at any stage of ur life as long as u have the will power to do it.-Devendra Jhajhariya
5) Success Corrupts you! Failure is the Best Teacher! - Anurag Kashyap
6) It doesn't matter who you are no one is safe on the internet. - Saket Modi
Speakers List Includes :
1. Anurag Kashyap - Bollywood Director & Actor
2. Suresh Prabhu - Minister for Railways, Government of India
3. Ritu Karidhal - Mars Orbiter Mission Director at ISRO
4. Arunachalam Muruganantham - Social Entrepreneur (TIME Magazine's 100 most influential people in the world alongside Barack Obama)
5. Deepak Ramola - Working with Syrian Refugees
6. Zeishan Quadri - Director/Writer/Actor (Scriptwriter of Gangs of Wasseypur - one of the best scripts ever written in Indian Cinema)
7. Sonam Wangchuk - Educator from Ladakh, Ashoka Fellow ('Phunsukh Wangdu from 3 Idiots' played by Amir Khan)
8. Vicky Roy - From rag picker to one of the World's Best Photographers
9. Papa CJ – Stand-up Comedian (Winner of Asia's Best Stand-up Comedian Award by Top 10 Magazine)
10. Kuldeep Dantewadia, Founder of Reap Benefit, Ashoka Fellow
11. Saket Modi - Forbes India 30 Under 30 for Technology, Co-founder, Lucideus, Cyber Security Expert
12. Robin Chaurasiya - Rehabilitating Daughters of Sex Workers
13. Ishita Katyal - Child Prodigy (Youngest TED Global speaker)
14. Sofia Ashraf - Rapper (Raps about environmental issues)
15. Vineeth Vincent - Musician and Beatboxer
16. Sheelika Ravishankar - Member, Team Indus (India's entry to Google Lunar X Prize), Mission to the Moon
17. Ryan Martyr - Dancer
18. Tanmoy Ghosh - Wildlife Conservationist
19. Babita Kumari -Olympian Wrestler
20. Ankit Kawatra - On a mission to end hunger in his lifetime
I could only say that I would be waiting for next year's Josh Talks and you should be too because it is going to be huge.
Thank you for the Reading. Kindly share some love by sharing this post on Social Networks.